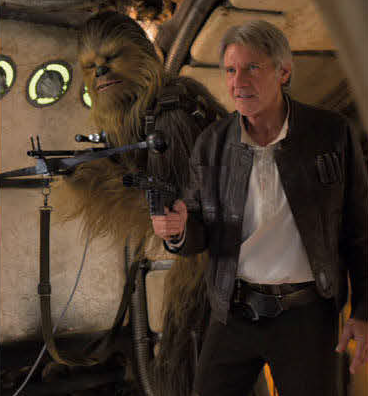 PETER MAYHEW IS CHEWBACCA
PETER MAYHEW'S TOWERING PERFORMANCE AS CHEWBACCA IS ONE OF THE GREAT ICONS OF THE STAR WARS SAGA. NOW THE LEGENDARY WOOKIEE IS ROARING BACK INTO ACTION IN STAR WARS: THE FORCE AWAKENS !
Star Wars Insider: How did your Star Wars journey begin?
Peter Mayhew: I started acting back in 1977. I had done a movie called Sinbad and the Eye of the Tiger. I played the Minotaur. That was a wonderful opportunity. About six months later, I got a phone call that they were looking for a tall person for another movie. That led to an interview with George Lucas. George's office was enormous. I sat down on the sofa and when George walked in, I stood up. The interview was just about over at that point. George said that Chewie would do mime action. He can negotiate, but he doesn't make human noises. So, you have to watch what other people are saying and, consequently, you join it up with body action and this sort of thing. Then we went down to the creature shop and got a face mask done. The next day we went to a costume shop in London and got the suit made. Everything started to happen from that point on. It was a remarkable time in my life.
How much was scripted for you and how much was you?
I'd say about 50/50. For example, in the Millennium Falcon cockpit, you've got four people in there. Chewie can't stand there looking like a piece of furniture. He has to react to everybody's attitude. And, he can't say what he wants to verbally, so he either has to use his mouth, or eyes or body language. So, that was 50-70 percent. I expected to be fi red the first week! But, fortunately, George saw what I was trying to do and here we are many years down the road. It was fortunate that I was able to bring that to the character.
Why do we all love Chewbacca?
Chewie's a teddy bear. Everybody has had a teddy bear at some stage in their lives. He's loveable; he's cuddly. If I don't do anything else, this is my chance to go into the history books. I'm already in there, so I'm quite happy.
When did you learn that there would be a new Star Wars movie?
I heard rumors way back, but it was just a question of waiting and seeing what was happening and whether it would be a series or just one movie. At that stage, I wasn't walking very well. I tore a tendon in my knee and wound up having both knees replaced. It took time to get kneecaps that would fi t me, and I wasn't sure I would be able to walk well enough to make the film, which by then I had learned was actually going to happen. But I wanted to do it…
How was the table read?
The read-through was interesting because we met all the cast. I see Carrie, Anthony, and Mark because of the conventions and signings we do. It was nice to see Harrison again and meet Andy Serkis, and all the newer guys, and see how the characters work in the story. I must say, Mark Hamill did a remarkable job as narrator. It was interesting; I've never done a read-through like that. Everybody was relaxed and could get to know one another again, and meet the new people. Was it surreal for the old gang to be reunited? It was wonderful. I hadn't seen Harrison in a good few years. It was so nice—a wonderful feeling. That kind of relationship lives on. It will always be Han and Chewie.
What did J.J. Abrams tell you prior to shooting the film?
"It's going to look as original as possible." It does. With the cockpit scenes, there are only two levers that actually work— there were only two in the original too!