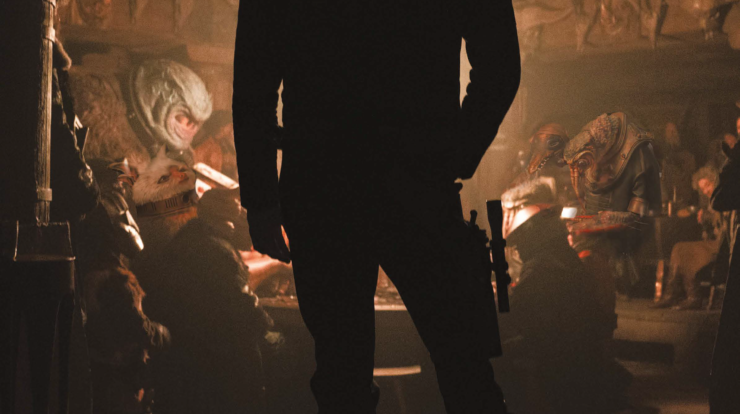 Who Fired Last? – Star Wars: Last Shot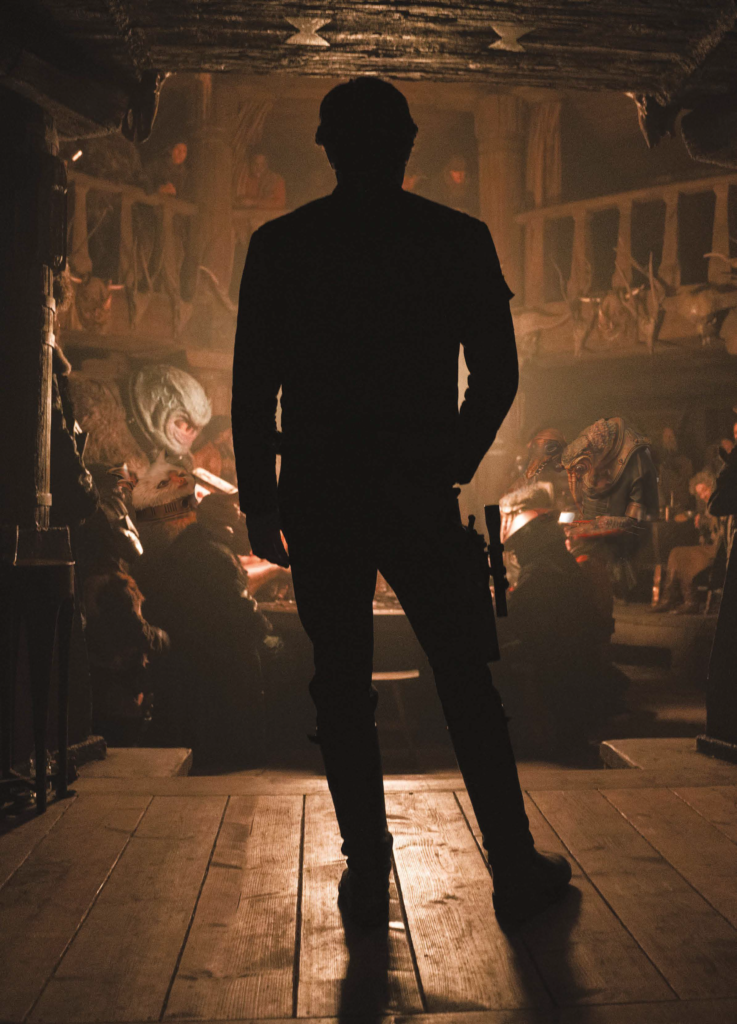 DANIEL JOSÉ OLDER
After having his own adventures as a New York City paramedic,
Daniel José Older is now a best-selling author, and the man
behind the epic new Han and Lando novel, Star Wars: Last Shot.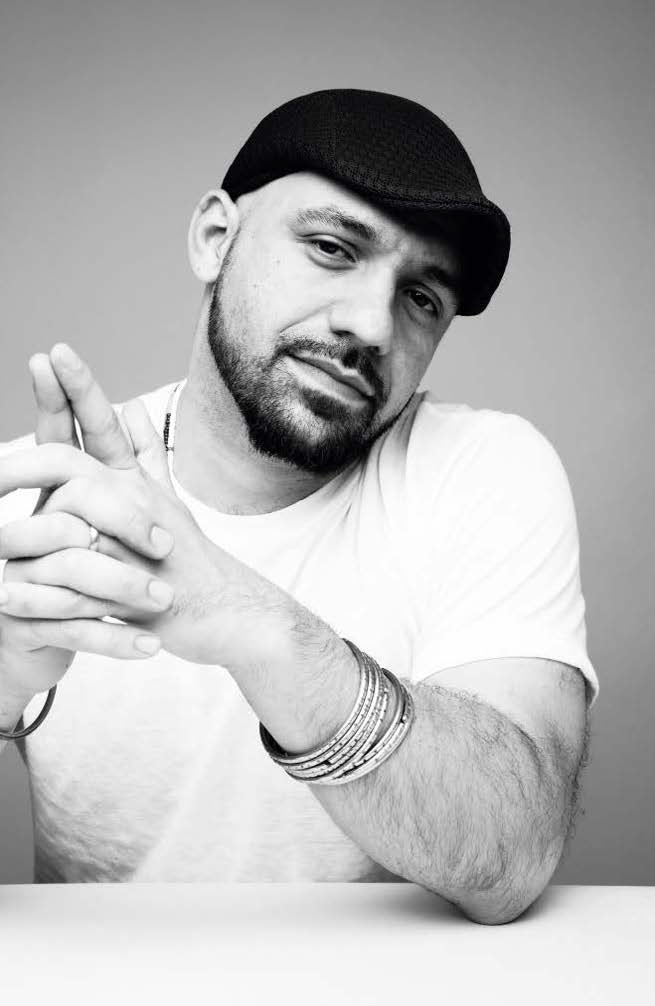 As author Daniel José Older tried to get a grasp on the inner complexities of Han Solo, he thought back to the decade he'd spent rushing around New York's urban jungle as a paramedic and saw many similarities. "There's a joy to having a sense of purpose in what you do," Older explains. "People misunderstand that to be an adrenaline rush, but really it's being able to put your mind and body and spirit into the service of something that you know you're good at, and that can make a change. That's an amazing feeling." Older's new book, Star Wars: Last Shot, catches up with the former scoundrel and his old friend Lando a few years after the Battle of Endor, with Han now a father to two-year-old Ben Solo and recently married to the formidable Leia Organa. Any hopes of a quiet domestic life are shattered, however, when an entanglement from Han and Lando's piratical past puts them on course for a new adventure. "One thing I really did want to get at is: What is his passion? What drives him? Because on one hand he clearly loves his life as a smuggler, and there's something about it that really pulls at him. But he takes to being part of the Rebellion really quickly. Yeah, he has a moment where he storms off and it's about the money, but no one believes that. "So now that the war is over, what is a solider to do? He can be very strategic in his own way, but he's no politician. His are the politics of the blaster," Older says with a laugh.
Despite being a New York Times best-selling author, Older, 38, is a relative newcomer to the publishing world. After a collection of his short stories, Salsa Nocturna, was released in 2012, he quit working on an ambulance crew to become a full-time author. In 2015, he hit the ground running with Half-Resurrection Blues, the start of his Bone Street Rumba series, and the young-adult novel Shadowshaper, which kicked off its own trilogy. Given the chance to write a Han Solo novel, Older relished the opportunity to employ his unique sense of humor to ask a burning question from his youth: "Do these people ever pack?" Older laughs again. "Well, do they? They fly all over the galaxy and yet they never seem to have a bag with them, so there is a moment in Last Shot where Leia packs Han's underpants. She's like: 'Here, I packed your bag. It's got clean underwear in it.'" It's just the kind of detail you might expect from someone whose first foray into Star Wars lore focused on one of the disgruntled stormtroopers searching Tatooine for a pair of missing droids—part of last year's From a Certain Point of View anniversary anthology.
Told in the format of an incident report (which shares similarities with the forms that Older once had to complete after every emergency call), "Born in the Storm" introduced the straighttalking Sardis Ramsin to Star Wars canon, sounding off over shoddy blasters, Imperial protocol, and "butt-scratchingly uncomfortable armor." Older smiles as he recalls that line. "That was one of many things I wasn't sure they would let pass, but they did!" But, as well as being a laughout- loud rant on everything that the Empire gets wrong, Older's tale is also an exploration of the humanity beneath the helmet of these faceless troopers. "I love the idea of counter narratives and just turning the tables on who we perceive as protagonists," he says. The story also captures the restlessness and personality clashes among a unit of soldiers— thrown together but not always getting along—and the series of bumbling mistakes and disastrous decisions that allow the droids to make their escape. "I remember being on duty as a paramedic," he says. "You're going about your business, doing your job, and of course you're really focused on what's in front of you. Sometimes that is people dying, but more often than not it is just people with indigestion. "But you also have your own issues going on, maybe you're texting with someone, you have your rent due, and there's all this other stuff that's present for you. So I was interested in writing a character who has all this other stuff happening and is speaking through this incident report form, exactly like the ones we had to fi ll out."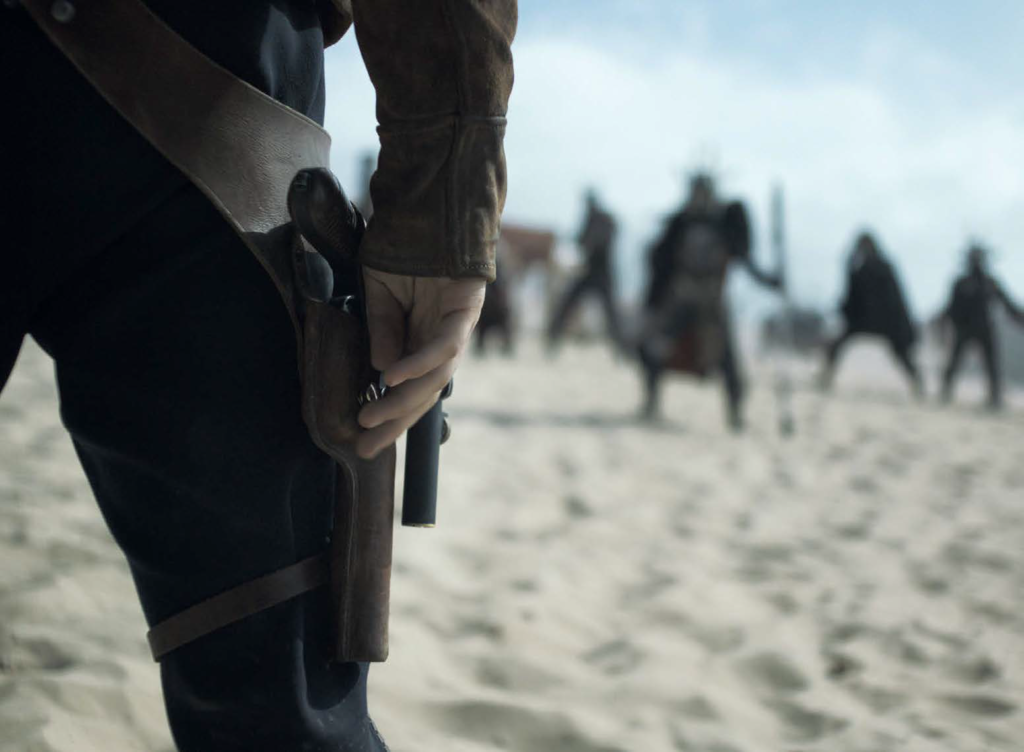 The short story even touches upon the compassionate side of the soldier, when Sardis finds a majestic dewback. "I was obsessed with dewbacks as a child," says Older. "I didn't know what they were called, because we didn't have starwars.com in 1986. But I thought it was just such a cool little detail that gave rise to so much world-building." In the original cut, the beasts are on screen for just a few seconds, but long enough to capture Older's imagination. "That was incredible to me," he says. No greater power Older clearly remembers the feeling of coming home from seeing Return of the Jedi (1983) in the theater for the first time. "It changed my life," he says. "I was too young to understand how, but I was totally immersed in the world from there on out. We had all the toys and the other stuff that came along with it, and I watched the other two films on video over and over again." The vividness of the galaxy far, far away, from its strange inhabitants to its used, weatherbeaten, and sometimes fallingapart spaceships, would help to shape Older into the writer that he would become. "The world-building is so in-depth. The original vision is so grandiose and expansive and fascinating, with so much room for growth. That's the model for how to think about worldbuilding. It's not just about the one character. You really feel like every character in that cantina has a life story and needs of their own, and is there for a reason. And that's so rare."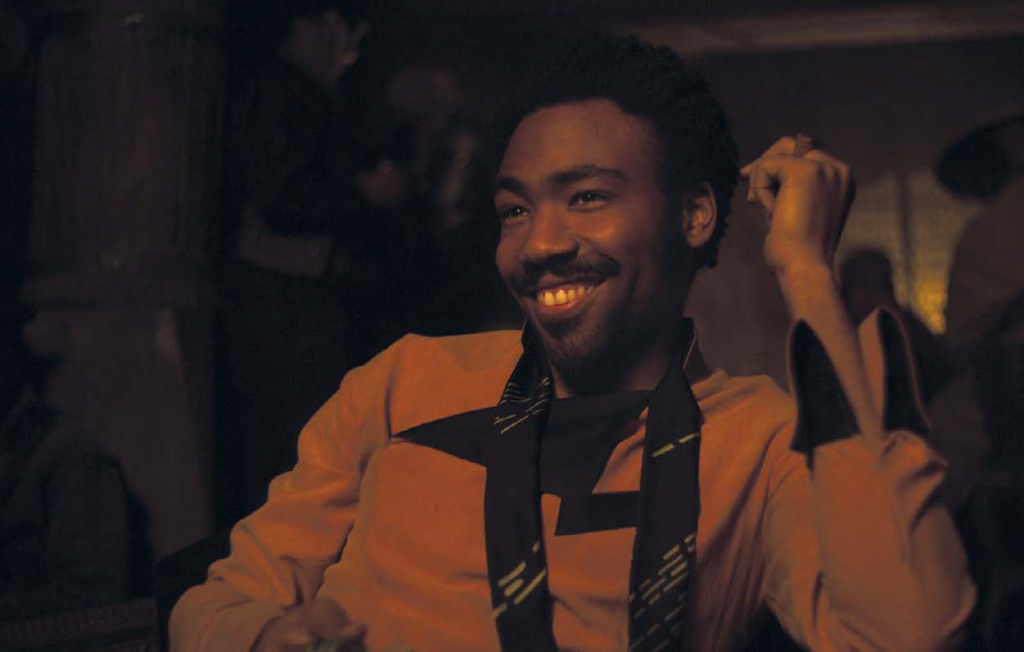 As an adult looking back on the special-effects masters who brought the story to life, Older is still in awe of the magic that turned simple materials into the extraordinary. "The power of Frank Oz with a piece of rubber on his hand! There's no greater power on Earth when it comes to special effects," he says. "None of these were things that I could articulate as a kid, of course, but they still resonated. I felt like Star Wars was real on a level that all of that sparkly sci-fi is not." Aside from the special effects, Older also reveres the powerful human drama within the saga. "That's great storytelling," he says. "It's really powerful.
There are so many dynamics at play in that world. At the heart of it, you have a good-versus-evil story, but that's where the simplicity ends because beyond that you fi nd so many varieties of behavior within this huge realm." As an author invited to further explore the galaxy in novel form, translating the vividness of Star Wars posed its own challenges— like how to convey Han's easy charisma and Lando's panache on paper. "How do you write that cape?" he laughs. "That was a struggle. How do you give him that true 'oomph' that he has as a character? Because so much of that is in the really beautiful micro details of how Billy Dee Williams moves and how he carries himself; his posture and the tenor of his voice. So that was a great challenge as a writer. "It's very easy to have Lando just constantly sashaying from one kind of conquest to another, but I wanted him to go through stuff and be wrestling with what it means to live in peacetime. What does it mean to want to settle down after a life of flying around the galaxy, participating in all these ridiculous stunts and barely making it out alive?" Star Wars taken as a whole is complex. At the heart of it is the Hero's Journey, but take a few steps back and the rest of the galaxy comes into focus, teeming with gangsters and smugglers, evil Empires and alliances, and, says Older, "political questions about war, spirituality, militarism, and different understandings of what it means to rebel and to be a hero." Just look at Calrissian. Even though he has relatively limited screen time in the original trilogy, Older found the character to be multifaceted and intriguing. From the first moment we saw him with Han on the landing platform, it was clear the two had a deep connection, and a complicated friendship. "You feel the whole weight of their relationship in just that little interaction," he says. "That's great writing and great acting." For Last Shot, Older bounces between life for Han and Lando after the Galactic Civil War and their younger days, in a story that has connections to Solo: A Star Wars Story when it debuts in May of this year.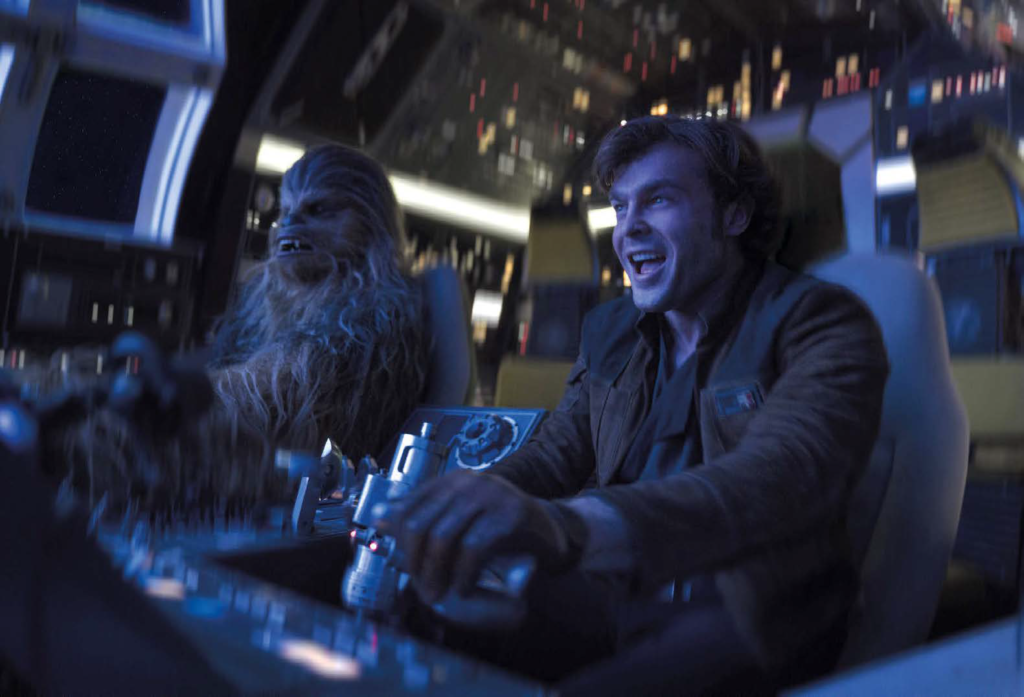 In the same vein as Claudia Gray in Bloodline and Chuck Wendig in his Aftermath trilogy, Older also sheds further light on the turbulent years of fledgling democracy following the end of the Empire. "Han is dealing with the question of what it means to be settled a little bit more," he ventures. "After being on the run and living this ridiculous romantic and dangerous life for so long, he now has a wife and a two-year-old kid. Han and Leia are dealing with politics and family life and all these other things, and then Lando shows up and brings a whole world of trouble to their door again. "A lot of the problems that they are dealing with in this story are rooted in events that happened a decade earlier. The past is stubborn, even when you think you've dealt with it. What happens to a friendship after a tremendous betrayal? Do they talk about that? Do they deal with it? I think that's very real. I wanted Han and Lando to have at least one moment where that rises to the surface again and they have to confront that with each other. The past is rushing up to meet the present and both narratives are intertwined. They build up to a climax together." Intimidating Thrill The whole experience of writing the novel has been something of a dream come true for Older. When he got the commission, he was ecstatic. "I might have blacked out or something," he jokes. "I remember an email with the words 'Han' and 'Lando' in there, and then just writing a frantic reply back to my agent before I even fi nished reading it. 'Yeah, yeah, defi nitely that!' I really wanted to do it. My own understanding of success is being able to do the project you want to do. So, by that standard, I'm a very successful writer, which is just great."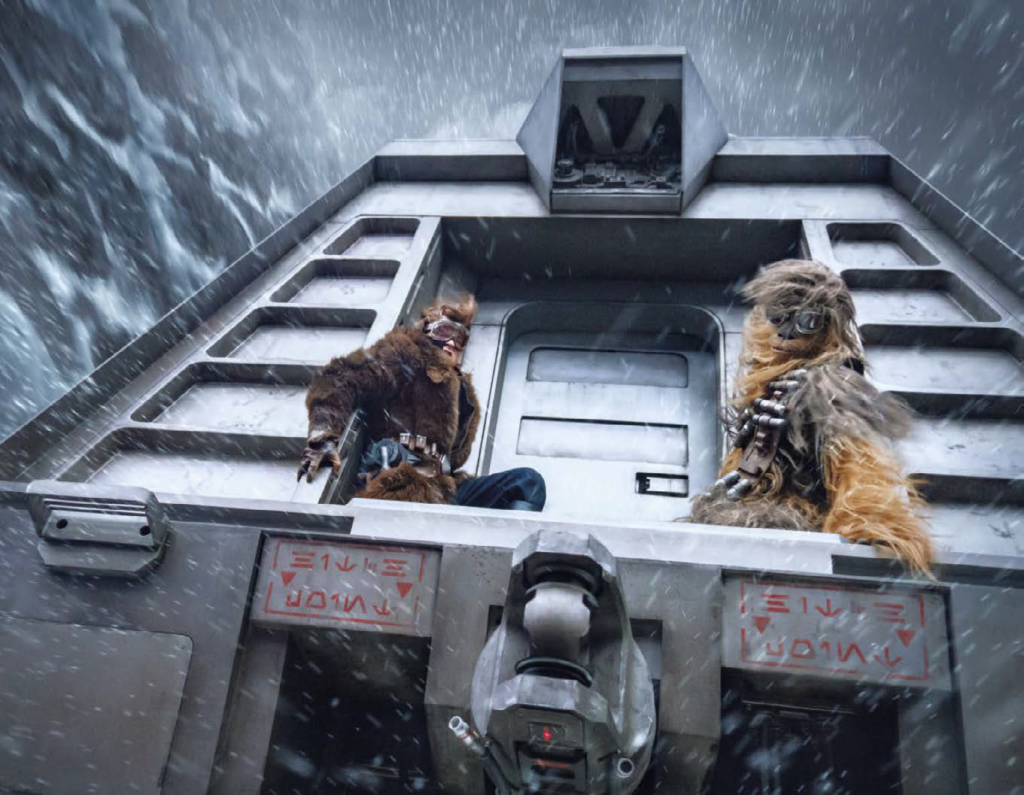 To prepare for the intense three-month writing frenzy that lay ahead, Older took time out to re-watch the original trilogy, re-read the most recent Star Wars novels, immersed himself in Star Wars lore from every resource he could find, and flew from his New Orleans home to San Francisco to attend a briefing on the Solo standalone movie. As for the novel itself, Older is determined to keep mum on the plot details of his tale, and on the additional characters that feature beyond its roguish leads. "I will say that we go to Utapau," he says, referring to the planet where Obi-Wan Kenobi clashes with General Grievous in Revenge of the Sith (2005), "as well as some brand new planets. Chewbacca is along for the ride, of course… Oh, and there's an Ugnaught! "I've been a Star Wars fan all my life, so these were characters that I already knew as if they were old friends," says Older. "In my head, I tried to see every moment as if it were on a screen—and as if it were brilliantly directed by Rian Johnson, J.J. Abrams, or George Lucas! If I could see it, then I could also hear it, and then I would write it. "It was definitely intimidating, but in equal parts intimidating and exciting," he concludes. "There aren't that many universes that I would even care to play in, but Star Wars is the one that I've always wanted to write for. It was a lot of fun, and just such an honor to bring these characters to life. In my mind, I have been playing in this universe for my entire life." Star Wars: Last Shot is out on April 17.