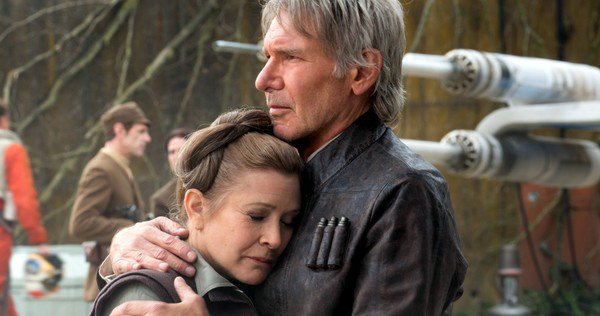 HARRISON FORD IS HAN SOLO
AN INSTANT HIT WITH AUDIENCES, HARRISON FORD'S PORTRAYAL AS THE ICE COOL HAN SOLO LED TO A GLITTERING CAREER AS A LEADING MAN IN DIVERSE PROJECTS SUCH AS BLADE RUNNER, WITNESS, WORKING GIRL, THE FUGITIVE, AND, OF COURSE,
THE INDIANA JONES SERIES.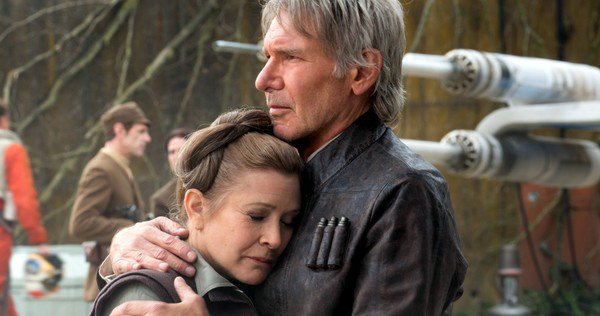 Star Wars Insider: When did you find out that there were going to be new Star Wars films? 
Harrison Ford: It was a couple years ago, but I didn't see the script until I started getting involved.
Did you need persuading to come back? I had a degree of self-interest. I was very gratifi ed when I first saw the script and thought there were some amazing ideas; interesting things to do. Then I was very excited for the opportunity to work with J.J. Abrams again, whom I've known for a long time [Ford starred in Regarding Henry in 1991 which was written by J.J. Abrams].
You've known Kathleen Kennedy for a long time [working on the Indiana Jones films]. Was her involvement part of the attraction? It's the story; it's  the movie that's going to be made. Of course, people are a very important part of the mix and you have relationships with people that are very important. I have a very long and fruitful relationship with Kathy Kennedy, so I was glad to be able to work with her again. I thought it was going to  be fun. I knew that it would be in good hands, but that wasn't the only attraction to the project.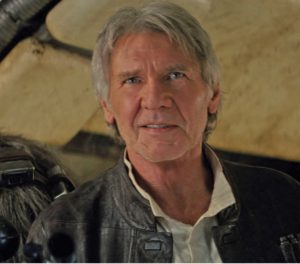 What did J.J. Abrams tell you about his vision?
We had  discussions about development of Han and his relationship to other characters in the story. They were very interesting and encouraging conversations. Then there was some work done in respect of the questions I had or input that I had with J.J. Abrams, and I was pleased with that. But I'm a "get on at the beginning and off at the end" kind of guy, so I don't really remember the street signs along the way.
Did you enjoy giving more input? We all had a certain amount of input once we got started. Over the course of making the Star Wars fi lms, we worked with three different directors and each of them had a different style and different attitude towards the process. I would say that the  relationship with those three different directors was different, but I always felt that there was a degree of collaboration that was comfortable for everybody involved.

What does J.J. Abrams bring to the table as a director?
He's very thoughtful and very wise about human nature and the development of character and relationships. He brings a real sincerity and emotional understanding to relationships, which is something I was very pleased to see. He's an enormously skilled filmmaker and a very efficient director and producer. So it has been a real pleasure to work with him and all of the members of his team as this film has gone on.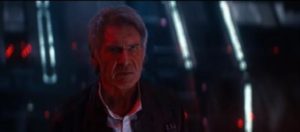 What was that like walking back onto the Millennium Falcon set?
I spent a lot of years here, so it was fun to see it again. I didn't remember it as well as I thought I did. There are things I remember about the cockpit  and the funny stuff we went through. On the original cockpit, I asked George to let us get into it, so we could try it on for size. Finally, we did get a chance, Chewbacca [Peter Mayhew] and I, to walk into the cockpit. Of course, he couldn't get into the seat! Flying it developed a little bit between iterations of the first three films, but it started to come back to me. It was fun.
What about working with screenwriter Lawrence Kasdan?
Larry Kasdan has brought a lot of really fantastic opportunities to the character. And, he's been working with J.J. Abrams on the script for a long time. He continued to be with us on the set and came up with some great stuff. I'm happy we had Larry.
What is it like working with newcomers Daisy Ridley and John Boyega?
They are both very engaging personalities; both in their real lives and in their screen characters. I think the audiences will be delighted to make their acquaintance and follow them through the story. They're both very inventive and spirited presences. Their characters are very interesting and go  through some changes. The casting has been brilliant, in both cases. Are relatable characters important? The genius of Star Wars has always been this science fi ction, fantasy context but underpinned by an emotionally recognizable human story that we all relate to by degree.
We all recognize the power of these relationships, and the complications in people's lives, and it's made these films so important to pass on from generation to generation.
You can call them family films, but they are iconic representations of what we know about the complications of our lives.
What do you hope audiences will take away from this film?
Recognition of our common humanity and that all of us face the same kinds of problems in our lives, and that there's hope. There's joy in the celebration of right and wrong, and in the recognition of truth that sustains us. And, they'll have fun along the way.